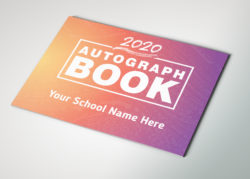 How long will my autograph books take?
All standard autograph books are despatched within 3-5 working days. All personalised autograph books are despatched within 7-14 working days – We pride ourselves on our speedy service!
Delivery
UK Mainland deliveries are next working day with parcels going to the Scottish Highlands, Ireland, Jersey and Guernsey arriving within two working days.
Returns
We will of course replace any damaged or faulty goods, but cannot accept returns where goods have been personalised and are not faulty. Please let us know within 14 days of receipt if you need to speak with us regarding a return – 01733 315097.
Is my data secure?
Absolutely! We comply with all necessary data storage regulations and don't hold any data that is not vital in the process of producing your planners.
Are you sustainable?
Yes! We love the environment and sustainability is extremely important to us! We purchase all of our materials from responsible merchants. If you'd like to know more about our sustainability certifications, simply ask and we'll be more than happy to tell you all about them.
Autograph Book Specifications
Our autograph books are created in a selection of sizes to suit your needs and most are completed as either stitched or perfect bound books; we do offer a selection of hardback designs, please see our full selection for further information. All softback and stitched editions have 250gsm glossy covers, with the inside pages printed on the highest quality 100gsm white paper.
How do I leave feedback?
Please feel free to get in touch with any feedback you have, our email address is [email protected] We're always trying to better ourselves and couldn't possibly improve without your valuable feedback.